Howdy there and welcome back to everybody's favorite sports betting/dick joke blog! Last week was a roller coaster of a week, there were ups and downs and lots of exciting moments but it ultimately ended in a giant crash. The bad news: I lost every single bet I placed on Sunday, quite the opposite of a Sunday Funday, The good news: The MoneyShot won again! And my moneyshot continues to be the highlight of everyone's weekend. So let's get back into it and try again this week, remember; you can't win if you don't bet!
Thursday night is a fun AFC South matchup. And as much as I LOVE Jaguars QB Gardner Minshew II (and all of the 70's porno's he starred in)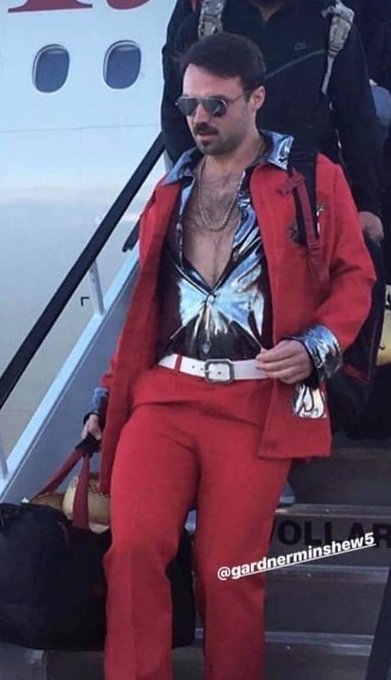 I just don't think he'll be able to do enough to beat the Titans, also both of these offenses have been struggling so we're going to take the under too (I'm not happy about it either, but we need a winner)
Friday Night we get what I think will be a very entertaining AAC conference game. I think I saw somewhere that this is the first Tulane home game to be televised on ESPN ever, so that's pretty cool for them, but they don't have D'Eriq King playing QB and Houston does, so I'll take Houston and the points.
Saturday we have a full slate as usual and here are some key points:
Michigan State and Northwestern Over 39 – I know that I might seem like a crazy person (I am) for betting this game, but hear me out. While these are not some traditionally entertaining offenses (I would rather take a staple to the eye than watch Northwestern football) when these two teams face off, the offenses come alive. There has only been one game between these two since 2010 that they did not score more than 39 points. And sure you could say, "what do those games have to do with this year?", well you can shut the fuck up, you're either with us or against us, and we're with the over.
Oklahoma State and Texas Over 73 – this is the game that I have been waiting for: two high powered Big 12 offenses against two softer than our super soft t-shirts Big 12 defenses. (Seriously, our shirts our soft, go get one) and there will be no shortage of points! When I see an over in the 70's I get a little bit turned on and there's not much I can do to stop myself from betting on it. It's a crime of passion, in the heat of the moment, and boy is that heat hot.
Hopefully this is the week where we can win some NFL games:
Not too often you see two 20+ point favorites in an NFL week so you know what? I'm taking them both, the Miami Dolphins are playing worse than any NFL team ever has. And they show no sign of wanting to play better. We're two games in and they are already tanking harder than my decision making after that third vegas bomb of the night. Don't bet on 3 vegas bomb Kyle to make any good decisions and don't bet on the Miami Dolphins to cover against the Cowboys
I love the Steelers+6.5 against the 49ers. We don't need no Big Ben. Give me Mason Rudolph! I don't know if the kid will lead them to a win, but he won't lose by more than 6.
On Monday Night we are blessed with a Bears/Redskins matchup that I know everyone is just dying to see. While I don't think there is any debate that the Bears are the better team, their giant question mark at QB will keep this game close. I really want Mitch Trbisky to be good at QB because he loves kissing titties, and as a fellow lover of titty kissing, I hope that he can figure it out. But until he does I think every Bears game will be a tight match-up that probably comes down to a field goal. I'll take the Redskins and the points.
Now for that sweet, sweet moment that everyone craves – the MoneyShot. Washington State-18.5 over UCLA. Washington State is led by their brilliant head coach Mike Leach, who not only is good at coaching football, but also everyone's favorite activity, talking about hypothetical mascot fights. UCLA, on the other hand, has spent most of the season getting their dick's kicked in by whoever is lining up against them. I'm no meteorologist, but there's a 100% chance of UCLA's dick getting kicked in again on Saturday, they are in a dick kicking storm of biblical proportions, somebody find Noah and build an ark because UCLA is in the middle of 40 days and 40 nights of getting that dick kicked. Cougars-18.5. Lock it in.
That's all we got this week! Thanks for stopping by and don't forget to follow along and reach out on twitter @OpinionsAnonPod and @KWallpe. Let's Get Rich!