Howdy Everyone!

There's no way to sugar coat it, that was quite possibly the worst betting weekend of my life. But we can't let one bad weekend keep us down! Especially with the start of the NFL season coming at us! And let's remember what is important, Purdue won so it was a good week!
Let's put that gross weekend behind us and move into this weekend's slate!

Thursday – Dallas @ Tampa Bay (-8)
This really just comes down to one simple question? Do you want to be the asshole betting against Tom Brady? For me that is a no. If the Cowboys do cover, then fine, I lost a bet I'm no stranger to that. But if I bet on the Cowboys and Tampa Bay covers I will be so mad at myself for being that dumbass that believed in the Cowboys and bet against Tom Brady. Trying to avoid those kinds of situations as often as I can! Tampa Bay –8
Saturday – Oregon @ Ohio State (-14.5)
You guys know I'm a sucker for betting against a West Coast team going east and an early game start. Add that with the fact that Ohio State looked shaky in the first half against Minnesota, but really started to string it together in the second half. Meanwhile, Oregon squeaked by Fresno State and might have lost their star defensive end Kayvon Thibodeaux in the process. Thibodeaux is currently listed as "Day-to-day" which sounds like even if he does play he won't be 100%. Lay the points with the Buckeyes Ohio State -14.5
Saturday – Rutgers @ Syracuse (+2.5)
This may come as a surprise to some of you, but Rutgers is no longer a terrible football team. Coach Greg Schiano had Rutgers as a top 25 program back in the 2000's and he has returned to the helm and in his second year has turned them into a tough physical team. Let's go Rutgers -2.5
Saturday – Buffalo @ Nebraska (-13.5)
This seems like a perfect time to get back on the Fade Scott Frost train. Buffalo is no pushover either, they had a dynamic rushing attack last year and it seems to have carried over to this season as they won their first game 69-7 with 312 rushing yards. Also the city of Buffalo rocks, ever heard of Buffalo Wings? If you don't like Buffalo Wings, I don't like you. Buffalo -13.5
Saturday – Liberty @ Troy (+5)
This is a matchup between what I'm assuming is two lesser known teams, but one guy you need to put on your radar is Liberty QB Malik Willis. Dude is a baller. Some people are even being as bold to call him the best quarterback in the country. He is an NFL talent and we're going to ride his special talent to a W. Liberty -5
Saturday – Purdue @ UCONN (+33.5)
Guys, I know this might seem like a homer pick but hear me out. UCONN is bad, like real bad, like lost to a school named Holy Cross bad, like just fired their coach after 2 games this season bad, and to make things even worse this is the head coach for their game against Purdue

Uhhhhhhh I respect his conviction in holding his fist up and just keeping it held up as no one joins. Doesn't seem like he will be the guy to rally the troops for an upset against Purdue. Boilers by 90. Purdue -33.5
Sunday – Browns @ Chiefs (-6)
I know there are a lot of folks out there who think this could be a pivotal season for the Browns, they've got a lot of talent and for the most part, have a lot to be excited about! I just think after Kansas City got embarrassed in the Super Bowl last year, they will come out pissed off and looking to prove a point with their revamped offensive line. The Browns dream season will have to wait another week to get their first win. Kansas City -6
Sunday – Chargers @ Washington (+1)
Well well well, would you look at that. Another West Coast team traveling east with an early start! You know the drill folks! Sprinkle in a little Fitz-magic for the Washington Football Team and it sounds like a victory to me! WFT+1

Sunday – Packers @ Saints (+4.5)
Call me crazy, but I believe in Jameis Winston. I don't understand how more people aren't talking about how he JUST GOT LASIK SURGERY IN 2020!! My guy has literally been playing blind and has been good enough to become an NFL Quarterback! Now that he has 20/20 vision I don't know who will be able to stop him! Lets eat some W's Jameis.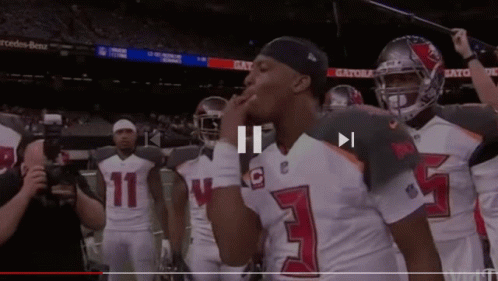 New Orleans +4.5
Sunday – Jets @ Panthers (-5.5)
Sam Darnold Revenge Game lets go! The Jets have a new Head Coach and a rookie starting QB, thats just a tough spot to be in so I'll take the Panthers -5.5

Sunday – Bears @ Rams
I want you to close your eyes and think about this game. Can you picture Andy Dalton leading a TD drive against this Rams defense? Exactly. Under 47
Monday – Ravens @ Raiders (+5.5)
Baltimore has come under some scruitney lately because they have great regular seasons but just seem to find ways to blow it in the playoffs, well, this is a regular season game so I'll bet on the incredible regular season team. Baltimore -5.5

It's that time again, so brace yourself, because here comes the Money Shot!

**Saturday – South Carolina @ East Carolina (+2.5)**
Last weekend South Carolina Played A graduate assistant that still had eligibility at QB and still won 46-0! Also he was named after "An old mountain man my dad knew"
What a fucking Stud.  With all this said they might get their actual QB Luke Doty returning this week (Along with RB Kevin Harris and Safety R.J. Roderick) so I'm sure they can manage to win by 3. South Carolina -2.5
Thanks again for reading everyone! As always, comment, tweet at me, or DM me with any comments, criticisms, or locks you have!
Whether you are fading or following, Let's Get Rich! Love you guys!